You know that your designs are making an impact when they start featuring in the glossy magazines. Over the last six months, Randy Luna has really gained momentum and having my work recognized by renowned publications has been all at once humbling and yet so uplifting. I feel like my whole life has been gearing towards this moment. My love of dance, my love of performance, my passion for aesthetic beauty; finally I am able to express myself in the most sincere way and people are starting to sit up and take notice.
Here are some of the key magazine features that have recognized my work:
December 2014. XEX Playlist with Forever in Your Mind
Styling the trio whose talents were first spotted on the X-Factor by renowned British music mogul Simon Cowell. This was a relaxed and playful photo shoot, and an absolute pleasure to style. The boys wore the Randy Luna accessories well, proving that our range brings out the personality of the individual. The overall look of the shoot was casual and youthful, the accessories amplified this and still managed to make a statement.
Winter 2014. Elléments Magazine. Issue 12. Cover
Getting my work featured on the cover of Elléments Magazine was a real coup. My leather textured necklace (bracelet/choker: shackle) looked stunning on Meron of Red NYC Models. There was a real eroticism and dramatic charge to the portraits with my choker being the main focal point.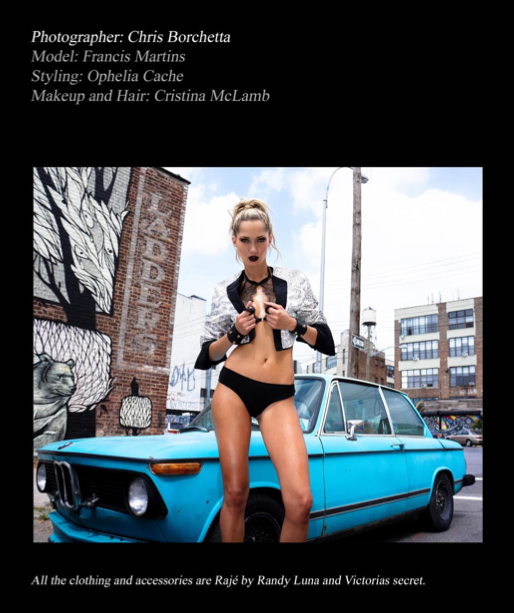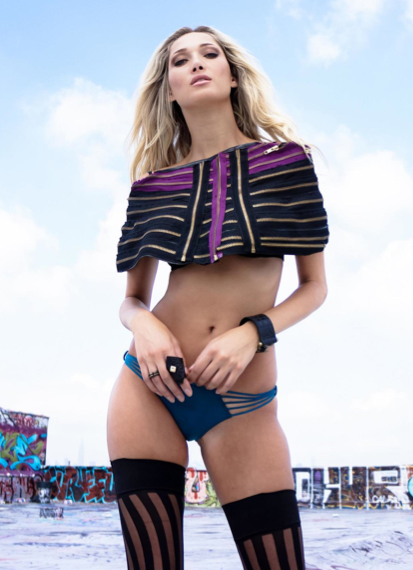 January 2015. Supermodel Magazine. Issue 025. 4 Page Spread
Photographer Chris Borchetta worked with model Francis Martins of Wilhelmina Models in a 4 page spread that evoked an edgy urban vibe that really highlighted the drama of the Randy Luna style. The shoot was brimming with attitude and showed yet enough side to my designs.
February 2015. Facade Magazine. Issue 01. Cover Spread Story
There was real personality to the Facade images which perfectly exhibits the confidence and sass that I imagine those who enjoy my work to have. I design for people with attitude, people who become art when they choose what to wear.
Here is a BTS of this editorial. Enjoy!
February 2015. Velvet Magazine Issue 38
An exclusive feature in Velvet Magazine really brought out the theatricality that is at the heart of my designs. Photographed by Domonick Gravine, Gwen from Major Models looked unspeakably majestic with my heavy opulent accessories snaking around her delicate throat.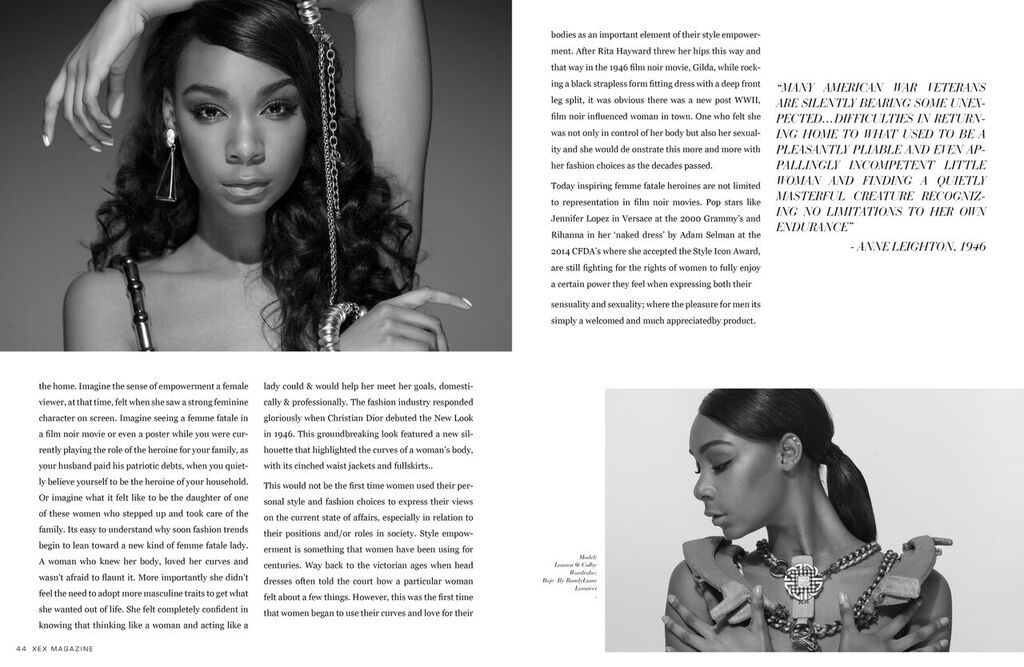 May 2015. XEX Magazine, Noir Edition
I was privileged to have my work feature twice in the Noir Edition of XEX in May. Not only for the gripping cover story: Fashion, feminism & the current state of affairs as seen through the film noir lens, but Randy Luna accessories also adorned recording artist Vassy in a feature on her from the same issue of XEX.
The cover article celebrated the strength of feminine beauty which is something that is close to my heart. The vivid imagery and my statement designs really encapsulated the mood of the piece, it was the perfect fit. "...one common theme remains present when visualizing all things noir, it was, at its inception, and continues to be a harbinger for new frontier of feminism and feminine strength. "- (excerpt from article) by Tiffiny Dixon.
The series of slick black and white shots by photographer Dallas Logan had a timeless quality that really evoked the historical spirit and rich influences of my work in a very artistic set of portraits.
The piece on Vassy was spirited and the images were striking as she the EDM diva spoke about her success "Hustlin" with Crystal Waters and David Guetta as their hit single We Are Young made it to #1 on The Billboard Dance Charts.
Overview
So all in all, it's been an exciting few months for us here at Randy Luna, having my designs embodied in so many different guises. I love the spread of personality and the mix of dramatic elements from each shoot. Each model and photographer brought their own charisma and unique take on the accessories which really resounds with me.
In the months to come we have plenty more magazine features to get excited about, as well as an exclusive TV network feature and you'll see my designs co-starring in a music video with a popular celebrity but I'll tell you all about that nearer the time.